Back in high school I started TheLastRipper, an audio stream recorder for last.fm. The project started as product for a school project on copyright and issues with piracy. It spawn from the unavailability of non-DRM infested music services. Which at the time drove many teenagers to piracy. Whilst, you the morality of recording internet radio can be argued. All the research we did at the time, showed it to be perfectly legal. Nevertheless, I'm quite happy that I didn't have to defend this assertion.
Anyways, I'm glad to see that the music industry didn't sleep for ever. These days we have digital music stores and I'm quite happy to pay for DRM-free music, and as bonus I get to support the artists as well. So it can hardly comes as surprise that I haven't used TheLastRipper for years. Nor have I contributed to the project or attended bug reports for years. In fact it has been years since the project saw any active development.
I do occasionally get an email or see a bug report from an die-hard user of TheLastRipper, and it's in the wake of such an email I've decide write this post. Partly because more people will ask why it stopped working, and partly because I had a lot of fun with project and it deserves a final post here at the end. Personally, I've long thought the project dead, I know the Linux client have been, so I was surprised to that anybody actually noticed it when the Radio API was updated.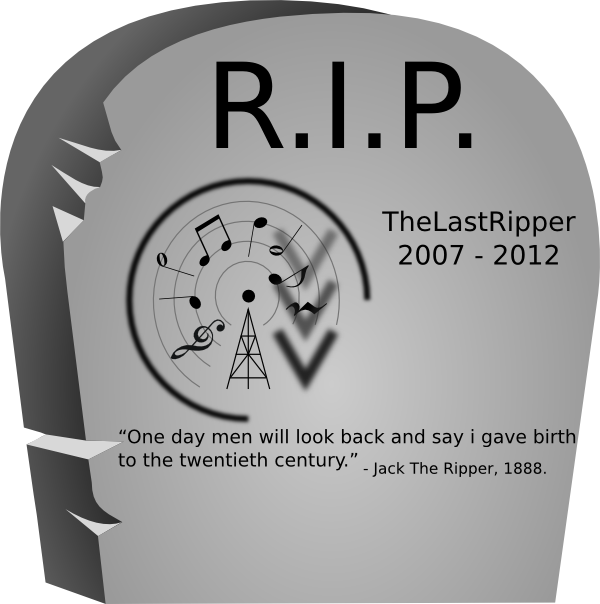 As you may have guessed from the title of this post TheLastRipper has died from being unmaintained while
last.fm have updated
their APIs. Honestly, I'm quite surprised last.fm have continued to support their old unofficial API for as long as they have. So this is by no means the result of last.fm taking action against TheLastRipper. Truth be told, I'm not even sad that it's finally dead. The past many years, state of TheLastRipper have been quite embarrassing. The code base is ugly, buggy and completely unmaintainable.
Over the years, TheLastRipper have been downloaded more than 475.000 times, distributed with magazines (Computer Bild) and featured in countless blog posts from around the world. Which, considering that this started as a high school project is pretty good. It's certainly been a great adventure and I've worked with a lot of people from around the world. So here at the of my last post on TheLastRipper, I'd like to say thanks to all the bug reporters, comment posters, testers, developers and people who hopefully also had fun participating in this project.
Oh, and to the few die-hard users out there, I'll recommend that you buy your digital music from one of the many DRM-free music stores you can find 🙂